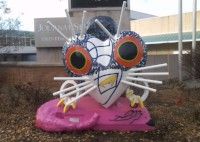 "Nebraska by Heart"
While driving around downtown Lincoln lately, some new pieces of art may have caught your eye. The six-foot heart sculptures are a part of a new project called Nebraska by Heart. It's to celebrate Nebraska's upcoming 150th anniversary.
A new one was installed near 10th and Q streets Wednesday afternoon. It was crafted by Lincoln artist David Alles. It's replacing another one, which is being moved to the Lincoln Community Foundation. Alles said this was an opportunity he couldn't miss.
"From start to finish to see it come from the studio and see it get to the street is really rewarding," Lincoln Artist David Alles said.
Each piece of art features a heart to symbolize Nebraska as the heartland of America. Many of them even have an outline of the state as the base. They're all created by homegrown artists.The project's director said the hearts represent Nebraska pride.
"The heart, the sculpture and the artist is a whole package. It's a whole feeling of the love we have for Nebraska," Project Director Liz Shea-McCoy said.
The goal is to have 93 of them to represent each county. The hearts will be sprinkled around downtown near the capitol.
They'll be displayed from next May through September. So far, 53 have been sponsored, but the endeavor needs your help to make the appreciation of our state more visible.
"This exhibition is will make that love become a reality," Shea-McCoy said.
The hearts will be auctioned next fall and a portion of the proceeds will go to two charities. Learn more at nebraskabyheart.org.